MACHINE SHOP SERVICES
Our People Have Decades of Experience Providing Machine Shop Services
Machining Capabilities
Turning
CNC Lathes
To 40.5" × 118" (1030mm x 3000mm)
2 Axis/3 Axis/4 Axis
3 Axis with Live Tooling/Milling
4 Axis with Live Tooling/Milling
Y-Axis
CNC Vertical Boring Mill
To 78.75" × 67.75" (2000mm x 1550mm)
3 Axis with Live Tooling/Milling
Manual
To 31.5" × 118" (800mm x 3000mm) with DRO
Milling
CNC - 4 Axis;
To 79" × 59" (2000mm x 1500mm)
CNC Horizontal Millling Center
39.4" × 39.4" (1000mm x 1000mm) pallets
78.7"×49.2"×49.2" (2000mm x 1250mm x 1250mm)
working envelope
CNC Lathes
To 40.5" × 118" (1030mm x 3000mm) 2 Axis/3 Axis/4 Axis
3 Axis with Live Tooling/Milling
4 Axis with Live Tooling/Milling
Y-Axis


CNC Vertical Boring Mill
To 78.75" × 67.75" (2000mm x 1550mm)
3 Axis with Live Tooling/Milling


Manual
To 31.5" × 118" (800mm x 3000mm) with DRO
CNC - 4 Axis
To 79" × 59" (2000mm x 1500mm)


CNC Horizontal Millling Center
39.4" × 39.4" (1000mm x 1000mm) pallets
78.7"×49.2"×49.2" (2000mm x 1250mm x 1250mm) working envelope
MACHINE SHOP
Our people are highly experienced in machining gear components. Our Services include:
At Delta Dynamics, We Deliver Precision
INDUSTRIAL GEAR BOX SERVICES - GEAR REDUCER FAILURE

Gear reducer failure is a serious problem which is why gearbox rebuild and repair is such an important part of what Delta Dynamics does. This reducer, pictured on the left, was designed and built by another machine shop to handle the increased horsepower that an Aluminum Smelter wanted to put through it. The gears lasted two weeks.
The experts at Delta Dynamics were able to analyze the situation and perform industrial gearbox services. The large-width gears were theoretically capable of handling very high horsepower. However, the large torque in the system wound up the pinion shaft so that the actual gear contact length was much smaller than designed. With our help, gear reducer failure problems will be minimized and eliminated so that your machinery may work as it is intended to.
INDUSTRIAL GEAR BOX SERVICES - REDUCER REBUILT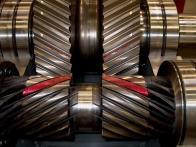 As shown in the image on the left, Delta Dynamics built a set of gears to replace the failed helical set above. The double helical design eliminates all thrust loads on the bearings which really emphasizes the strength and power of gearbox rebuild and repair, as the bearings were one of the constricting factors with the increased horsepower. The double helical design with axial float on the pinion allowed full-face contact regardless of the torsional windage. The gear reducer has been running for well over 6 years.
General Machining

GEAR CONSULTING AND PROTOTYPE DEVELOPMENT
Delta Dynamics works with the production of a wide range of un-proven prototype designs with various levels of complexity, design efficiency and detail.