Sawmill Edger Manufacturing
Re-tech Arbor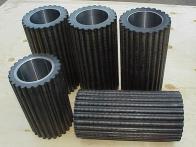 Delta Dynamics performs sawmill edger manufacturing, which is essential to the forestry industry. Sawmill edger manufacturing is much needed because using an edger can be extremely dangerous if it is not manufactured properly. That is why we manufacture parts that are high-quality and durable. Additionally, we are also able to make custom premium products, such as sawmill shafts and sawmill arbors. Having the correct size sawmill shaft is imperative for your sawmill and we can collaborate with you to find the measurements and create the piece you need. The sawmill shaft must rotate the sawmill arbor properly so that your machine will provide you with the results you desire.
The Re-tech Style Arbor or Lobe Style Arbor is the most common drive used today. This is the first drive system used for driving the saw blade directly without the use of collars. The tooth form is based on what is practical for manufacturing, the saw eye can be formed with a punch or drill and the arbor can be easily cut on a milling machine with common stock cutters. The fit was designed comparatively loose to accommodate inaccuracies inherent to the manufacturing process.
Current production methods, such as hobbing teeth on gear cutting machines, induction hardening and laser cutting, have allowed tighter fits to be achieved but the approach varies. The list below shows what were once considered standard dimensions. These dimensions have been modified both on the arbor and on the saw eye to reduce the clearance. The most common practice is to maintain tight tolerances on the arbor to standard sizes and to modify the saw to the fit required. New arbors supplied from most Original Equipment Manufacturers are supplied to the sizes given on the chart. Consult your saw supplier or Delta Dynamics to recommend what is practical for tolerances and best for your particular application.
Benefits of Re-tech Arbors:
Manufactured from high tensile alloy steel
Cut on precision gear-hobbing equipment for indexing accuracy.
Available in sleeves or full arbors.
Induction hardened to minimize distortion.
Keyways timed to+.002 from center of tooth or space.
Sleeves supplied up to 22" long.
Outside diameters held to .002" tolerance.
Straightness held to .001" per foot of length.
No manufacturer can ever claim that their design is the best on the market and superior to all others while maintaining its cost-effectiveness. In mechanical design there is always a tradeoff. To accomplish maximum saw eye stability, for example, the ability of the saw eye to shift on the fly must be minimized. To accomplish the best fits and tightest tolerances the cost to manufacture must increase. The ideal design is a balance between the required design parameters as well as the cost to achieve them. No arbor is best suited for all applications. Tell us what you need and Delta Dynamics will ensure that you receive the product that is best suited to your application.
Involute Splined Arbor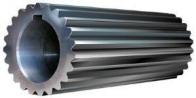 The involute splined arbor was developed by one of the principle designers at Delta Dynamics to more easily meet the concerns of many sawfilers while establishing standards that could be used by all manufacturers. The use of an involute spline in machinery is incredibly beneficial because the ridges allow smoother correspondence between gears. Improved manufacturing methods such as gear hobbing and CNC laser cutting have allowed tighter tolerances to be achieved. The tooth form on the involute splined shafts of the conventional lobe style arbor did not lend itself to being easily modified to achieve reduced clearances and better contact.
The involute spline is a common, recognized method of power transmission. The term "involute" describes the type of curve used on most spline teeth as well as gear teeth. This curve ensures that, regardless of clearance, full form contact is achieved across the flank of the tooth under load. This is demonstrated on Delta Dynamics' involute splined shafts.
The standards of the Society of Automotive Engineers (SAE) have been long established to set forth various fits. SAE standards specify 4 basic classes of fit: Class 4, Class 5, Class 6 and Class 7. Class 4 is the tightest fit, Class 7 is the least tight and Class 5 is the most common fit. The Involute Splined Arbor has been designed with a Class 5 fit, while saw clearance can be specified with the different class of fit in the saw eye. Class 4 may be preferred for fixed saws while Class 7 may be preferred for shifting or curve sawing.
Benefits of Involute Spline Arbors :
Manufactured from high tensile alloy steel
Cut on precision gear hobbing equipment
Induction Hardened 62-65 HRC
Available in 37.5 Deg. or 30 Deg. pressure angle
Available in solid arbors or sleeves
Full form contact
Good self-centering properties reduce vibration
Good load distribution for increased life
Saw arbors are manufactured with 30 deg. & 37.5 deg. pressure angle teeth. The pressure angle (PA) refers to the angle of one flank of the tooth. A 60 deg. common thread would have a 30 deg. PA. The 37.5 deg. PA spline has 33% more tooth contact surface than the 30 deg. PA spline for better load distribution.
The 37.5 deg. PA spline has better self-centering properties due to the larger angle. This will make it more stable under load but will be more difficult to shift on the fly than the 30 deg. PA spline. The 30 deg. spline has a larger ratio between radial clearance and diametrical clearance. This is the amount that a saw can be deflected off-center when the tangential load on it is greater than the drives ability to hold it on center. If a saw had .010" of backlash, or radial clearance, it could be deflected off center .0066" for 37.5 deg. splines and .0087" for 30 deg. splines, a 32% difference. The ability of the 30 deg. spline to accept more deflection may make it preferable for curve sawing. Evaluate your particular needs and consult with your saw manufacturer and Delta Dynamics to choose what's best for you. The staff at Delta Dynamics will be happy to share whatever information you may require
Delta Drive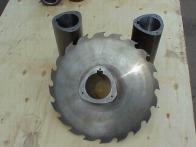 The Delta Drive Arbor was designed through consultation between sawfilers, sawmill maintenance personnel, and saw and arbor manufacturers. While this drive form may be new to the North American sawmill industry, it is based on a long established European engineering polygonal profile drive standard.
Benefits of Delta Drive Arbor:
Manufactured from vacuum-degassed alloy steel to increase hardness and tensile strength.
Machined on CNC machinery to ensure repeatable accuracy.
Induction hardened to minimize distortion.
Hard chrome plated to increase wear and corrosion resistance and reduce friction.
Different profiles available for fixed and for shifting applications.
High torque transmission for increased feed speed
Large surface contact area reduces contact stresses and increases arbor life.
Self-centering properties aid in consistent bite per tooth.
Balanced, symmetrical distribution of forces reduces vibration.
Easy, safe handling of saws with no sharp teeth.
No grooves or gullets to collect chips that can cause imbalance on arbor.
The Polygon Drive System is being used as a standard saw drive by a leading sawmill manufacturer in Sweden.
One of the largest machine-tooling manufacturers in the world uses the Polygon Drive for its premium modular tooling for CNC machining where locational stability is essential.
A leading American gear-cutting machine manufacturer uses the Polygon Drive as their primary drive for change gears where concentricity and ease of assembly are critical.
Delta Drive arbors and sleeves are now being used in more than 40 various edgers across North America and are showing excellent results. The majority of users state that they are very pleased with the performance. They prefer it to other systems they have tried, and will not switch back to their older drive. Reference names and test results are available upon request.